Researchers from the mobile and wearable artificial intelligence (mAI) Lab received the best paper runner-up award at the IEEE/ACM international conference on Connected Health: Applications, Systems and Engineering Technologies (CHASE) conference. The lab is directed by Sudip Vhaduri, assistant professor of data analytics and machine learning in Purdue Polytechnic's Department of Computer and Information Technology.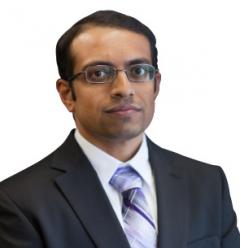 Vhaduri and Siva Sahitya Simhadri, a graduate research assistant, presented "Understanding User Concerns and Choice of App Architectures in Designing Audio-based mHealth Apps" at the CHASE conference last month.
In the paper, Vhaduri and Simhadri examine users' major concerns about audio-based health monitoring smartphone apps and the choices they can make when provided with a set of app configurations, i.e., architectures, when using a health monitoring app that relies on continuous microphone sensing to obtain audio recordings.
Most of the study participants (around 66%) choose either the complete on-phone architecture, in which all computations are performed on the phone, or the non-speech data-driven architecture that removes all speech components from audio recordings in the phone before sending them to the server for additional computation. The researchers found that only 7% participants choose the raw data-driven architecture that sends raw audio recordings to the server for all computation.
These findings could be used as guidelines for the future user-centric app design to address user concerns and provide app customization options with the goal to improve the utility and compliance of the mHealth apps that rely on audio data obtained from the continuous microphone sensing, Vhaduri and Simhadri said.
Vhaduri joined Purdue Polytechnic's faculty in fall 2021. His research focuses on mobile and wearable computing and artificial intelligence in healthcare and user authentication.
The annual international CHASE conference brings together researchers working in the smart and connected health area to exchange ideas, begin collaborations and foster innovation.
Additional information